People And Canines

Georgann and Cody

Dakota Cody
UDX ASCA-CDX CGC TDI HIC
HCT NA NAJ NAC NJ-C FMCH
Border Collie
18,640 points
(1,360 points left to ONYX!)
(page under construction)
For Dakota Cody -
Indiana Jones theme song! "Raiders of the Lost Ark"
Cody, also known as Dakota Cody UD ASCA-CDX CGC TDI HIC HCT NA NAJ NAC NJ-C FMCH, is one versatile border collie! Born Dec. 17, 1993, he has done everything his mom asked of him and more. He achieved the title of UDX on Nov. 24, 2001 and is working toward his OTCh, as well as being a very consistent flyball team member. Cody has been playing flyball since early 1995 and loves it with a passion!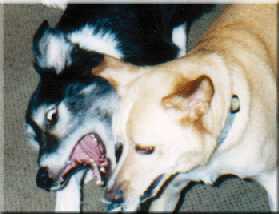 Always jumping up and down, barking, foaming at the mouth to run, Cody is a flyball maniac! In other activities, he's calm, mild mannered and sweet - a real Dr. Jekyll and Mr. Hyde kind of dog. Cody and his mom also dabble in and occasionally perform in canine musical freestyle demos and competitions. They are also planning to get back into agility to finish Cody's AKC Open title this fall. Cody has also done a little herding, earning his HIC and HCT.
(ABOVE: Cody plays and flirts with
teammate Sunshine)