People And Canines

Georgann and Brandy

Brandy FDX
Border Collie
315 points
(185 points left to FDCh)
For Brandy - "Easy Lover"
Georgann:
Brandy is one high energy, wild reheaded rescue who is getting close to being ready to run in a tournament! In early June, 1999, a lady from a horse farm near Grand Saline, about an hour east of Dallas, called me asking if I could take in a border collie puppy. Apparently, a neighboring farmer had bred his two red border collies, had a litter and all the puppies had been sold except for Brandy, so he was going to dump her in the pound or the country. The lady horse farmer took her so this little puppy would have a better chance at life, but with several horses and 4 rottweilers, she was afraid this little red girl might get stomped or eaten, so she called me, being a volunteer with Border Collie Rescue Texas, and I met her in Terrell to make the transfer. She said they'd been calling her Penny.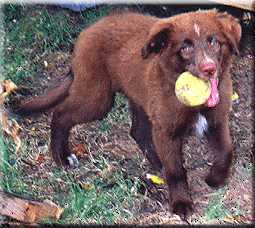 I took this little red ball of fluff to the vet to check out the spots of missing hair and to get vaccinations, wormed and whatever else she needed. The bald spots weren't mange - she'd just had some scrapes - and the hair grew back fairly quickly. This little girl turned out to be quite a busy one, so my husband Donnie and I decided she needed a more appropriate name. Donnie suggested Brandy, after a favorite golden retriever he had owned many years earlier, so her name was changed. Brandy soon demonstrated that she loved to learn new things and wanted to please, although it was very, very hard for her to be still at all! She also liked to give kisses, which sometimes turned into "love nips," especially when she was very excited about doing something, like flyball!
Brandy discovered tennis balls early and loved to carry them around as much as possible, often sneaking them into her crate at night. She also loves soft frisbees almost as much, so I use one of those as her reward when she runs back from the flyball box. Donnie and I decided that we really wanted Brandy to become a part of our family, so we adopted her. Donnie's son, Damon, also loves Brandy and they enjoy snuggling, too. Brandy LOVES attention from humans, especially belly rubs and treats, and will crawl right into your lap.
Brandy easily earned her FD and FDX in College Station on November 2, 2001.
She also loves a good run and romp with the other dogs. She can also be found in a three way tug-of-war with two other adopted rescues in our home! Brandy is also a common sight on walks in the neighborhood with me, greeting the neighbors and anxiously looking for all the squirrels and cats running around. She will be starting agility classes in Oct. 2001, since I believe she has potential to do well in that activity.